Practice Info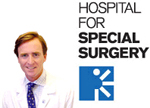 As a board-certified sports medicine surgeon at the prestigious Hospital for Special Surgery in New York City, Dr. Fealy provides comprehensive orthopedic care to active adults and athletes with shoulder, knee, elbow and ankle conditions.
With offices in New York City and Uniondale, Dr. Fealy has immediate access to Hospital for Special Surgery's vast clinical resources for diagnosis, treatment, and recovery. The Hospital for Special Surgery ranks as No. 1 in the Northeast in the orthopedic industry by U.S. News & World Report and is a leading institution in the diagnosis, surgical and non-surgical treatment of musculoskeletal conditions.
Dr. Fealy uses a conservative philosophy toward orthopedic care to work with each patient to find the best possible solutions to fit his or her lifestyle and needs. If surgery is determined to be the best course of action, he uses the most advanced technologies and latest procedures to achieve the best outcomes.
Hospital For Special Surgery Patients are encouraged to ask questions and get involved along the way. Whether patients need a second opinion about a condition or are considering surgery, we help patients understand alternative options, recovery details, possible risks and costs. Pre- and post-op educational tools such as online computer-generated demonstrations are available to educate patients as well.